On a personal note... Lawrence Manor is For Sale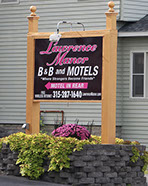 The main B&B house has an owner's quarters with private access to the kitchen, a private bedroom, bath, living room, and sun room. A new owner might convert the Manor into a family home with a sweet motel business in the back. The sale could also include the Victorian Lady, across the street from the Manor.
If you are interested in taking over this well-established business or have ever entertained the idea of becoming an innkeeper, you should not miss an opportunity to learn more about this sale. Contact Donna either through email or a phone call. If you are a seriously interested buyer, ask for a tour.